You are here
Kingdom Installs Aquascape Koi Pond at Catoctin Wildlife Preserve
HOW IT ALL BEGAN...
In July 2019, our offices received a phone call from Mary Anne Hahn, owner of the Catoctin Wildlife Preserve, which is located in Thurmont, MD.  Mary Anne explained to us that they were experiencing problems with their current Koi Feeding Experience Exhibit at the zoo.  She asked if we could come by and take a look.
Upon arrival, we learned that their main pond pump was not working and two of their biofall waterfalls hadn't been running for years.  The water quality as far as visibility was concerned was very murky and green from algae growth.  They definitely needed to get their situation fixed.  This pond had been originally constructed more than a decade ago and was in need of upgrading.  Unfortunately, after giving them an initial price quote on getting their systems up and running again, it just was not something that the zoo could afford.  Mary Anne explained to us how their facility depends on visitors, donors, and memberships to keep things running and that their main concern is being able to pay their employees and feed all of their animals throughout the winter months. The animals are their first priority!
The Catoctin Wildlife Preserve has been a part of the Catoctin Mountain community for more than 50 years, and before that it was a local snake farm.  We care very much for our little mountain community, and it is very important to us.  After discussing the situation with our team, Tom suggested that we give the zoo one of our used pumps to add to the pond to least get their water flowing again and providing aeration for the fish.  We spoke again with Mary Anne and mentioned to her that we would reach out to Aquascape and to our local distributor Turf Equipment & Supply and see if we could get some help from the "Tribe" of CACs (Certified Aquascape Contractors).  She was very interested in this possibility of a complete overhaul of their Koi Exhibit.
PLANNING & APPROVAL
After several emails and phone calls back and forth with Tim Cleary (Turf Equipment), Trey Smith (Aquascape Regional Sales Representative) Ed Beaulieu (Aquascape's "Pond Professor"), and Tavia (Aquascape's Tech Department), the project was approved in August for an Aquascape Training Event to be held in November 2019. 
The next step was to submit our preliminary design to Tavia at Aquascape's Tech Department so she could coordinate and work out the details of the project with "The Pond Professor" Ed Beaulieu.  Ed travels all around the world building Aquascape water features, and at one point he was in Brazil while helping to finalize the design.  Ed is the "Best of the Best," and we were actually going to have him on-site leading the training on this exciting advanced pond building event.  We were "pumped!"  At any rate, as soon as the component details, size of the intake bay, and size of the wetland filtration system were all figured out, then we could begin the layout and pre-preparation work.
Simultaneously, Tim Cleary from Turf Equipment was busy promoting the event to area contractors and CACs to get them to register for the event.  One of the things that is common with Aquascape Pond Contractors is their passion for building ponds.  Who else is willing to pay a registration fee for an event ($129), and in some cases, buy a plane ticket, reserve a hotel room for two nights, and work for two days as a volunteer with no pay.  Tim's assistant, Tina, helped order and coordinate all of the meals:  breakfast, lunch, and snacks for both days plus a special hotel reception dinner the first evening for networking.  In addition, Turf Equipment provided safety vests for all of the contractors on the day of the event.
PRE-PREPARATION OF POND AREA
The maintenance staff at the zoo agreed to help with preparing the for the project.  So, beginning in October the first thing they had to do was to remove all of the existing vegetation and old pond components and plumbing lines including a small building that housed many filters and plumbing connections. Then they had to pump out the existing koi pond and relocate their beautiful fish.  Once we laid the project out on the ground with orange spray paint after getting the final measurement from Aquascape, we determined that in order for the wetland area to be the size requested by Aquascape, an existing retaining fence needed to be moved out approximately seven feet from its existing location.  The guys at the zoo got right on it.  Next, they had to relocate the electricity to the back of the intake bay area so all of the pumps could be plugged in.
On Monday, November 4th, the Kingdom Landscaping team came in to begin all of our pre-preparation work before the pond build.
Pond
The first thing we tackled was the koi pond itself.  We removed the old liner and carpet padding that was underneath.  We reshaped the pond so that it had distinct vertical pond edges (not sloped) with a center depth of approximately three feet.  The size of the pond is roughly 22' x 42'.  Then we added woven geotextile (filter cloth underlayment) fabric for underneath the liner.  Next we rolled out (with the help of the zoo crew) a 50' wide roll of EPDM 45 mil "fish safe" liner that weighed about 1,200 lbs.
Once the liner was in place, we began covering the liner with rocks and gravel; this is what we call "rocking" it in.  One of the many blessings of working on this project was that the zoo had all of the rocks and boulders we needed on the property.  The zoo crew collected tons and tons of rocks and boulders for us.  However, the zoo itself had to purchase around 90 tons of beach gravel and pearl stone for the project.  These materials were provided by Barrick & Sons of Frederick and Sunny Meadows Garden Center of Boonsboro.
Intake Bay
One of the most innovative features of advanced pond projects is the "Intake Bay."  The intake bay acts like a giant skimmer system and replaces the use of the traditional pond skimmer system.  The benefit of the intake bay is drastic reduction of maintenance; you don't have a skimmer net that you have to empty on a daily or weekly basis.  Basically, as the surface leaves and debris make their way into the intake bay, they will congregate in a specific area and can easily be removed using a rake or a net when necessary.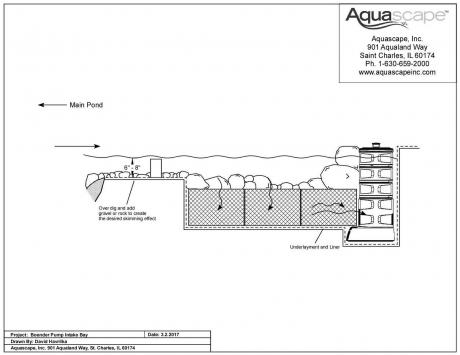 The size of the hole for this intake bay was 11' x 15' x 3' deep.  In addition, the weir opening was 9' at the mouth of the pond and narrowed down to a 5' wide stream, and then enlarged to a 6' opening going into the intake bay itself.  So, the first step for our team was to use a mid-size excavator to dig the hole as specified.  Tom and Callan Hahn (Mary Anne's son) were fortunate to work out a deal with Rentals Unlimited of Frederick as well as Bobcat of Frederick to provide several pieces of construction equipment free of charge for all of the contractors to use as "demos."  We were able to have access to all of this equipment for about three weeks.
Once the hole was excavated, the next step was to add the geotextile underlayment and then to install the remaining section of the liner roll into the intake bay.  We used one large piece of liner for the pond and the intake bay so that there were no liner seams.  Once that was completed the intake bay was left "as is" until the day of the build when all of the components would be installed inside of the intake bay including 34 large AquaBlox, 4 pump vaults, and 5 pumps with plumbing lines.  Then rocks and gravel get installed on top of the components along with creative elements (logs, stumps, accent boulders, plants, etc.).
Waterfall C - Biofall with Small Stream
After completing the intake bay, we moved onto the installation of Waterfall A, which is the smallest of all of the waterfalls.  The first step was to set the Aquascape Signature Series 2500 Biofall and shape the stream coming down into the pond.
Our goal was to give it the look of a narrow meandering mountain stream, nothing aggressive.  The pump for this feature is the AquaSurge 2000 gph pump.  We set a large tree stump as an accent piece that would also hide the biofall from the main viewing area.
Then once again we added the geotextile underlayment and pond liner and then began to set the rocks and gravel.  When we build our waterfalls, we use Aquascape black waterfall foam to adhere specific rocks to the liner in certain areas to direct the water flow over the top of rocks instead of going underneath the rocks.  This is a common practice when building Aquascape water features.
Wetland Area
The wetland filtration area is just that a large biological filter.  It takes the place of the common water feature biofall component.  The wetland filter is the powerhouse of the entire ecosystem pond.  In our opinion, it's just amazing!  This wetland was custom designed to be fairly large (20' x 23' x 5'6" deep) to handle the population of large Koi that will be hand fed throughout the day when the zoo is open for visitors.  The Koi Feeding Experience is one of the most loved attractions at The Catoctin Wildlife Preserve and will be the focal point of their new Asian Trail area that is scheduled to be open to the public in May or June of 2020.
Before we could even begin excavation of this area, we had import about 60 cubic yards of clay fill dirt to build up and level out the area above the existing Koi pond.  Thankfully, we had volunteer help from several guys from Sunny Meadows Garden Center (Shawn Eby, LeLynn Martin, Lardell Petre).  We started the day at sunrise and worked past sunset; we needed to get all of the fill dirt installed because they were calling for rain the next day.  We did it!
When we returned the next day, excavation of the wetland filter began.  Our crew uses Hutton Tools "ZIP Level" to aid us in setting our grades and knowing how deep to dig; we highly recommend it.  We were making great progress and everything was running smoothly until a hydraulic line busted on the excavator around 10:00 am.  Bobcat immediately sent a technician to the jobsite, but unfortunately he had to run to get a part and the repair ended up taking several hours out of our day.  Oh well, stuff happens.  Once repaired we got back on track, and, although we hoped we would be done excavation in one day, it ended up taking two days. 
Unlike the intake bay, we were not installing the underlayment or pond liner until the pond building event.  The main focus of this training session was to focus on Advanced Pond Building Techniques using intake bays and wetland filtration.  Our responsibility was to have everything in place and ready to go for the BIG DAY!  
The Aquascape components of this wetland included two Snorkel Vaults, six Centepede Modules, and 96 small AquaBlox.  In addition, three 8" layers of different sized beach/pearl gravel totaling around 80 tons of stone (that doesn't include accent rocks and boulders) were installed on Day 2 of the Aquascape Pond Build Event.
Waterfall B - Wetland Waterfall
Our preparation of this area was limited to just shaping the dirt in a semicircle pattern and making large step ups.  Because we had never installed a waterfall of this scale off of a wetland, we were looking forward to this aspect of the training session.  We wanted to see Ed Beaulieu in action...the master waterfall builder.
Waterfall A - Biofall with Stream
Basically all that we could do with this area is take a couple of measurements and put some paint marks on the ground (see the photo below with the log, those orange paint marks depict part of the stream location).  The spot for this waterfall and stream was right in line with where all of the equipment and workers would be running in and out of the job site.  It would have to be installed after the wetland filter area was completed.
The components for this waterfall would include a Signature Series 6000 Biofall and would be powered by a single 9PL pump (7,000 gph) with a 3" plumbing line.
THE BIG DAY - DAY 1 - NOVEMBER 19, 2019
Wow!  The BIG DAY had arrived.  We got to the zoo while it was still dark (before sunrise).  The Turf Equipment team arrived simultaneously.  You could tell that we were all very excited.  While waiting for our zoo entrance gate to be unlocked, Jodi decided to venture over into an overflow parking lot (walking around mostly to stay warm), and lo and behold, she found a gorgeous log that would be perfect for a focal point in the wetland area.  What a great way to start the day!
The Turf Equipment Team (Tim Cleary, John Mayhew, Andy Donelson, Tina du Monceau, Brissa Chavez, Juan Carlos Toccano, Bob Shay) immediately went to work getting everything set up...the registration table, event signage, and the breakfast station down by the Koi pond.  Our little Kubota utv got lots of use transporting people and supplies from the parking lot to the job site.  Tabitha and Moriah were especially appreciative of the breakfast choice:  Dunkin coffee and egg sandwiches! 
This was going to be more than a training event, it was almost like a family reunion.  After being in the pond building business for 20+ years, we have made so many friendships and business relationships over the years.  When Ed arrived, it was just such an honor to have him heading up this build, and then as the contractors started coming in, it was so much fun to say hi and give a hug to those we hadn't seen in awhile and to meet so many new faces.  I believe we had around 50 contractors come and participate in this event.  We had guys from Tennessee, New Jersey, Delaware, Pennsylvania, West Virginia, Virginia, and, of course, Ed who flew in from Chicago, Illinois, (the home of Aquascape Inc.).
After gathering for a quick breakfast with introductions from Tim Cleary, safety instructions from Tom Tyler, an overview of how the project came about from Jodi, and then education on the Aquascape Ecosystem utilizing the wetland and intake bay from Ed Beaulieu, it was time to get started and everyone jumped right in and got to work.  Several groups were assembled to tackle different tasks:  AquaBlox assembly team, equipment operators, pump assembly and plumbing team, filling buckets with gravel, intake bay team (installing AquaBloxs, installing gravel, rocking in, etc.), and wetland filter team. 
At noon, we took a break and walked down to the Safari Pavillion to enjoy a delicious boxed lunch from Subway of Thurmont.  Another bonus, was that the zoo provided us with a tray of cups filled with pellet food for the animals.  So, everyone had the opportunity to do a little bit of exploring and enjoy feeding the goats, llamas, deer, and cranes. 
The main focus after lunch turned to the wetland area, while a small team continued to put the finishing touches on the intake bay.
Overall, although the day started out a little chilly, it was a beautiful sunny day in a wonderful wildlife preserve.  We wrapped things up before 5 pm, and many in the group headed down to the host hotel in Frederick to enjoy a catered networking dinner.  The food was delicious and the company and conversations were entertaining, but truth be told, we were pretty tired and ready to head home.
THE BIG DAY - DAY 2 - NOVEMBER 20, 2019
The day started again before sunrise, and we all assembled for breakfast (Dunkin' Coffee & Donuts).  In all honesty, our team was starting to get a little concerned about whether or not this was going to be finished and running before the end of the day.  The main focus was the completion of the wetland filtration area, but we also had to finish the intake bay area, build the main wetland waterfall and build the third waterfall with a 15' stream.
Teams assembled themselves very quickly and like a well-oiled machine everyone got to work.  The main focus was getting all of the stone dumped into the wetland area and shoveled around.  It may sound easy, but this was a major undertaking because access to the wetland was very limited; there was only one way in and one way out, and it was narrow, so only one piece of equipment at a time could go back and forth to the stone pile.  Ugh!  It was so time consuming and there was so much to be done.  At any rate, we were making steady progress, and everyone kept moving as a means to keep warm (Brrr, it was a cloudy, cold day in November, but it wasn't raining or snowing so that was a plus). 
Right before lunch the exciting moment of placing the large log that Jodi had picked out finally came.  It was kind of a harrowing moment, as Shawn, who was operating the excavator had to maneuver the machine and the log along the backside of the wetland.  As the log was being maneuvered over the fence/wall and into the wetland, the straps broke and the log dropped!  Whoa!  What a moment!  (Jodi actually missed it and had to watch someone's video later. lol)  Good News:  no one was hurt, the fence/wall wasn't damaged, and the wetland was fine, and best of all, Ed chuckled!  That man must have nerves of steel!  He just rolls with the punches; what a great example for all of us. 
Tina did an awesome job scheduling a hot catered lunch from Mountain Gate in Thurmont that we enjoyed down at the Safari pavillion.  Mary Anne & Rick Hahn (owners of CWP), joined us, and Jodi was able to introduce them to the group.  Mary Anne said a few words and was visibly shaken (tears) and appreciative of all of our efforts.  That's why we do what we do.  Water features have a way of touching lives and changing lives forever.
After lunch, we were still filling the wetland up with stone...and more stone....and more stone!  The setting of the log was just the beginning of changing the look of a hole filled with stone into a hole that was becoming a work of art.  As many guys started putting the finishing "artistic" touches on this area, Ed and another group of guys began building the main waterfall, which required machine-setting large boulders, foaming rocks, trimming liner, and bringing the entire area together. 
By mid afternoon, things were really buzzing along.  Chris Kennedy from Digital Bard showed up with his drone and began filming the project from overhead.  The "Zoo Crew" as we affectionately called them, hooked up some large water hoses and began pumping water from a nearby natural pond into the new Koi pond, which holds around 25,000 gallons of water.  We were working feverishly to beat our deadline of 4:00 pm, turn on the pumps, and get a group photo before sunset.
At the same time, another group was able to start work on Waterfall A, which included excavating and shaping a 15' to 20' stream, setting the Aquascape 6000 Signature Series Biofall, hooking up the plumbing, installing the underlayment and liner, and begin rocking in and backfilling the entire area.
Well, guess what, 4:00 pm came and went, and as the sun began to set, and the air became even colder, and everyone was getting tired, the group building the main waterfall was still hard at it.  They were absolutely dedicated to seeing this waterfall run.  So, 5:00 pm came and went and some of the contractors had to leave...planes to catch, long rides home, etc., but Ed and his waterfall crew were determined.  We used the headlights from several pieces of equipment to keep the area lit while they worked.  And, then, at about 6:30 pm, it was time.  Time to "flip the switch" on three 9PL pumps feeding the wetland filter providing about 21,000 gallons of water per hour over the waterfall spillway.  It was a beautiful sight.  What a gorgeous waterfall!!! 
The line, "In the Hands of an Artist" rings so true with this work of art.  Truly a masterpiece.  And, guess what?  We did get a group photo...in the dark. 
POST-PREPARATION - FINISHING THINGS UP 
So, to be totally transparent with all of you, after cleaning up and saying our goodbyes to everyone at the end of Day 2 (about 7:30 or 8:00 pm)--although we were extremely thankful for everyone's help and we had a great time--we were exhausted and not really looking forward to seeing all of the unfinished areas of the Koi Pond Exhibit.  Typically after an Aquascape build, everything is pretty much complete...the liner has been trimmed, the edges have been backfilled, oftentimes plants and mulch have been installed.  But this wasn't a typical build...this was an Advanced Build-A-Pond Project.  We needed to keep reminding ourselves of that fact.
As soon as we arrived, one of the first things we were anxious to see was the water level in the pond.  We left the pumps running overnight so we could make sure we didn't have any major leaks; remember, we finished this thing in the dark.  Good news!  The water level was down less than 1/4", which wasn't alarming because the rocks and gravel would be absorbing water and it would allow for normal evaporation with those large pumps.  At any rate, the next step was to go around and observe all of the edges the pond, the intake bay, the two waterfalls (the third waterfall wasn't complete), and the area around the entire wetland area.  We only found two spots in the wetland area where water was leaking over the edge of the liner, and they were both an easy fix.
Because we ran out of time the day before, we needed to go around and trim liner, trim underlayment, shape edges, set more rocks, backfill with soil, and totally camouflage all of the outside edges so we could make the feature look as natural as possible.  Around the wetland, because we had enough excess liner, we hand excavated around the straight lines of that rectangular hole and added more of a serpentine line here and there.  In addition, believe it or not, we needed to add more gravel to the inside of the wetland, especially around the outside edges so that marginal/bog plants could be directly planted in the gravel in only 2" to 6" of shallow water.  The center of the wetland area had about 12" to 16" of water.  Because of the time of year--mid November--the availability of pond plants was very scarce or even nonexistent, so pond plants will be installed by the zoo at a later date.
After taking care of all of the edge treatments around the intake bay, wetland waterfall, small waterfall, and wetland area, we directed our attention to the third waterfall that had been started but not completed.  First, we had to hook up and bury the 3" plumbing line that ran from the intake bay and behind the wetland and over to the biofall.  Then we had to finish building the stream and waterfall, which mainly consisted of setting rocks, foaming rocks, and adding gravel.
Remember how stressed and overwhelmed we were feeling the day before because there was so much work to be completed?  Well by the end of the day, we were amazed at how much we had accomplished, and how close we were to completing this project.  "How do you eat an elephant?  One bite at a time!"  Although there are many who take credit for this proverb, Francis of Assisi sums it up like this:  "Start by doing what's necessary; then do what's possible, and suddenly you are doing the impossible."  Whenever faced with the impossible, just take it one step at a time, and that's what we did.  Even though our construction crew is small--Tom, Jodi, Matt, and Michael--we have passion, determination, skill, and artistry.
OUR FINAL DAY
One Word:  Bittersweet! 
Bitter because we really enjoyed being surrounded by the daily activities of the Catoctin Wildlife Preserve.  We made lots of new friends at the zoo, who we will miss...Mary Anne, Rick ("Cap"), Callan, Brandi, Nubby, and many more.  And, we will miss the animals, especially the cranes!  
Sweet because the job looks amazing and was done, but most importantly, the zoo staff is very, very happy
Our final day was mainly tidying up a few more things, packing up all of our tools, loading up our equipment, checking the water level (which was perfect), and taking a trip around the zoo in the Kubota UTV to say our last goodbyes to the animals. 
 We look forward to our regular visits to the zoo in the future with our families and being able to share all of our memories of ourI wonderful time being a part of this incredible project, which will be the highlight of the new Asian Trail for decades to come.  We would like to encourage everyone who reads this to support our local Catoctin Zoo by visiting, by donating, or by becoming an annual member.  Lets preserve this little peace of heaven for many generations to come.
I LOVE MY JOB!  I LOVE MY ART!
For those of you familiar with Aquascape, you will recognize the tagline:  I Love My Job or I Love My Art.  And that's why a group of CACs (even those who are competitors in the same market) can come together and work together doing what they absolutely love:  building incredible Aquascape water features.  "Working with Mother Nature, and not against her!" 
A BIG THANK YOU
Kingdom Landscaping would like to thank all of the companies and contractors who took part in this awesome training event as follows:
Aquascape Inc. - Ed Beaulieu and Trey Smith
Turf Equipment & Supply - Tim Cleary, John Mayhew, Andy Donelson, Tina du Monceau, Brissa Chavez, Juan Carlos Toccano, Bob Shay
Atlantic Ponds - Martin Dimitrov
Beaver Pond - Woody Luckeroth, Danny Androsky, Jay Fries, Billy Davidson
Damascus Enterprises - Scott Brown, Nick Seabrook, Mark Quesenbarry
Delaware Water Features - Stan Lepkowski
Dream Scapes - Eric Martin
Gramercy Water Scapes - Brian Rosen - Franco Propato
Heidelberg Fountains & Ponds - Bjorn Neumann
Infinity Water Gardens - Will Rhodes
Keystone Reefscapes - Eric Belsinger
Living Artscapes - Frank Fink, Tony Ruiz, Kyle Geotzinger
Loveridge Lawn Maintenance - Jonathan Loveridge
Locke & Sons - Karl Locke
Ponds by Bee Landscaping - Scott McIlwee, Josh Crews, Mason McIlwee,  Robbie Benzing
Rada's Landscaping - Jason Rada, Shawn Wiseman, Dave Reinecke
Smoot's - Marty Smoot, Thomas Smoot, Jacob Smoot, Dan Hilliard
Sunny Meadows Garden Center - Shawn Eby, LeLynn Martin, Lardell Petre
WBF Maintenance - Jason Ash